Marine World Heritage site managers exchanged know how and practices in Esbjerg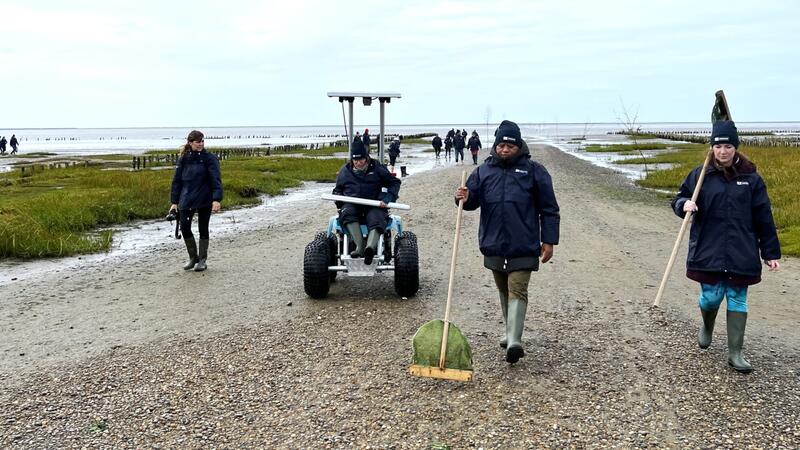 Between 5 and 9 October, over 30 site managers from 23 World Heritage marine Sites met at the fifth edition of the UNESCO World Heritage Marine Managers Conference in Esbjerg, Denmark. The programme focussed on the exchange of know-how and practices on various topics such as partnerships, climate change adaptation, and challenges and solutions of invasive alien species. The Conference was organised by UNESCO in cooperation with the Trilateral Wadden Sea Cooperation.
"We feel very honoured that this conference is taking place in the Wadden Sea World Heritage Site and we proudly presented our area to our guests", says Anne-Marie Rasmussen, Chair of the Wadden Sea Board. "I believe that site managers are key to finding and implementing viable solutions to the effects of climate change, biodiversity loss and pollution – the triple planetary crises, which make meetings such as this one so essential."
Among the visiting World Heritage site managers, some are from the Komodo National Park in Indonesia, the Tubbataha Reefs Natural Park in the Philippines, Ningaloo Coast in Australia, Aldabra Atoll in Seychelles, and Area de Conservación Guanacaste in Costa Rica. The event's programme focussed on the exchange of inspiring ideas from the different sites, especially on the climate crisis and how to involve the local population in the adaptation dialogue. "This event was a great opportunity to self-reflect on our trilateral cooperation – where we are standing and what we can improve further", resumes Soledad Luna, CWSS Programme Officer for World Heritage. "It was a privilege to host this conference and I would like to thank the three countries, especially the hosts, Denmark, Schleswig-Holstein, and the Esbjerg Municipality, and, of course, the UNESCO team for making the event happen."
Launched in 2005, the mission of the World Heritage Marine Programme is to ensure effective conservation of existing and potential marine areas of Outstanding Universal Value so marine World Heritage Sites will thrive for generations to come. The Programme has three main areas of focus to fulfill its mission: monitoring state of conservation, connecting a flagship network of site managers, and building resilience and climate adaptation capacity.